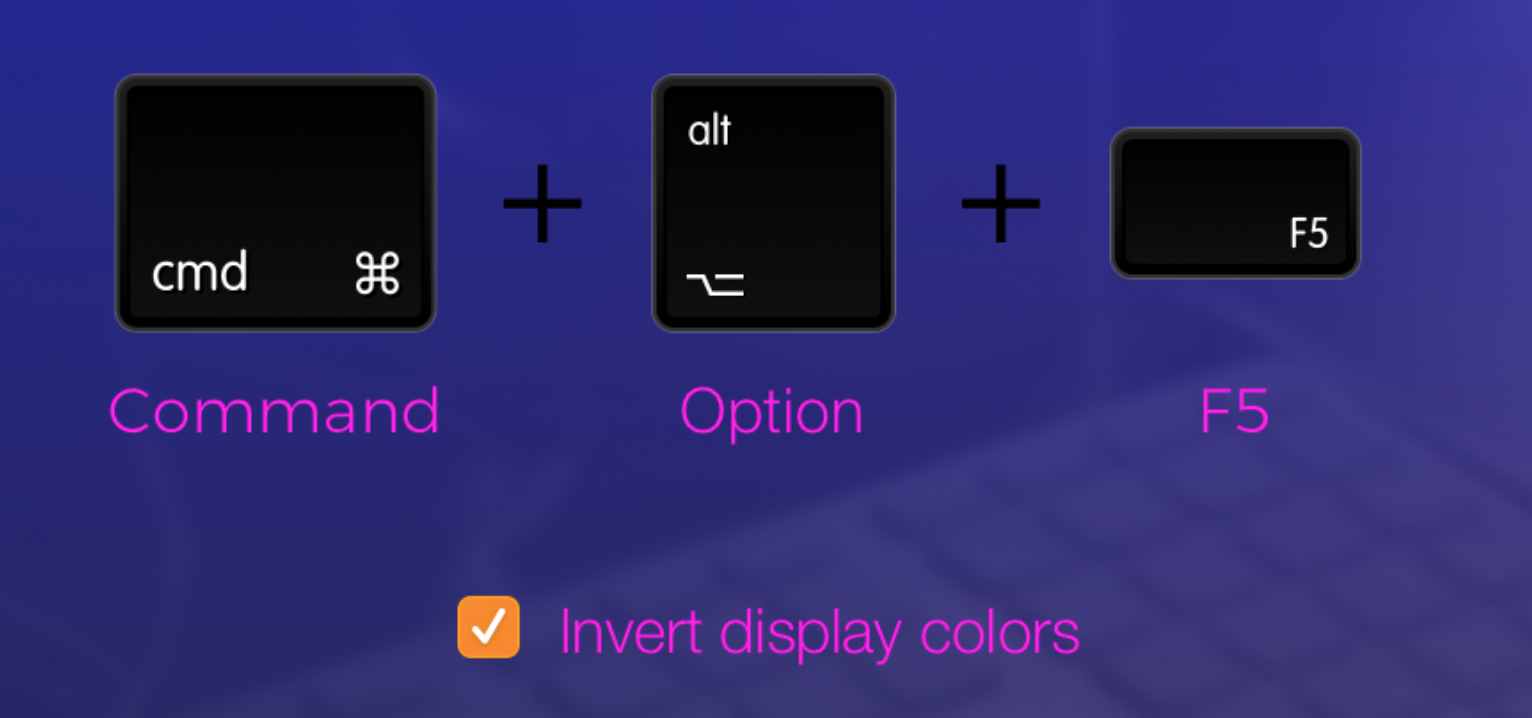 1. Invert display colors
A truly psychedelic key combination. This shortcut inverts all the colors on your Mac's screen to their opposites. Try it, and your world will never be the same. On the flip side, you can find a few practical applications for this command, for example, to adjust your screen to different lighting.
To invert colors on screen: Сmd + Option + F5
2. Restore a recently closed tab
This one can be a real savior if you accidentally closed an important tab in a browser, like that pancake recipe or payment confirmation. There's an easy Mac keyboard shortcut to restore it.
To restore a closed tab: Cmd + Shift + T
3. To shut down your Mac instantly
No, the following Mac shortcut is not about the force shutdown. It's used when you need to quickly close all dialog windows and shut down your Mac in a legit way. Learn this one, quickly finish your work and finally go outside.
To quickly shut down a Mac: Control + Option + Command + Eject
4. Mac hot keys to invoke Siri
Among all Mac keyboard commands, this is the easiest. Since Siri's arrival to macOS we got used to talk to Siri about weather and even ask her play our favorite tracks in macOS High Sierra. If you are using macOS Sierra or High Sierra, you'll enjoy the ability to summon Siri using just one hand.
To launch Siri: Cmd + Space bar
Anda ada masalah dengan
MacBook/Laptop/Iphone?
Kami boleh bantu menyelesaikan masalah anda..
M
ACNOTE STUDIO UIA Gombak?
Anda boleh hubungi kami melalui:
Lot 1 As-Souq At-Tullab ,Mahallah Ali Ibn Talib,
International Islamic University Malaysia,
Universiti Islam Antarabangsa,
Wilayah Persekutuan Kuala Lumpur
Google Maps :
Macnote Mobile
E-mail : macbookstation@gmail.com
Waktu Operasi : Isnin - Ahad (10 a.m. - 9 p.m.) Setiap Hari
Anda boleh datang terus ke MACNOTE di UIA Gombak:
1. KAMI DI GOMBAK ( DALAM UIA GOMBAK)
- 15 MINIT DARI KEPONG DAN SELAYANG
- 25 MINIT DARI BANGSAR DAN AMPANG
- 30 MINIT DARI SETAPAK DAN SENTUL
-40 MINIT DARI PUCHONG DAMANSARA DAN CHERAS