All computers require cleaning, and laptops require more cleaning than desktops. That's because you end up handling a laptop more than you do a normal computer. Here's how to clean your laptop case, screen, and keyboard.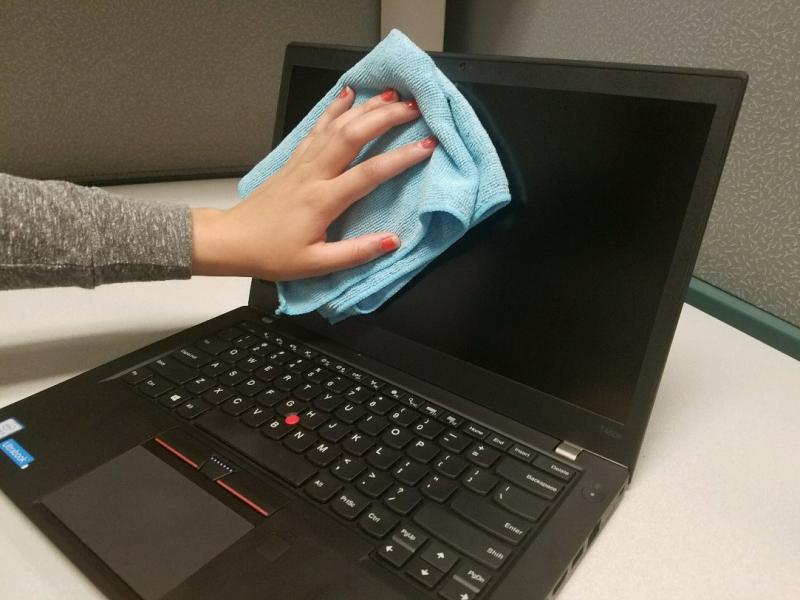 WIPE DOWN THE CASE
1- Turn off the laptop.

2- Unplug the laptop.

Remember electrical current and liquid really don't mix.

3- Mix the cleaning liquid.

One part dishwashing detergent with five parts water.

4- Soak the sponge in the cleaning liquid.

5- Wring out the sponge until it's dry.

6- Gently wipe down the laptop's case.

The laptop case is the outside. We'll get to the keyboard and screen later. You can use the sponge and swabs to clean the touch pad though.

7- Use the swab to get the nooks and crannies.

You can use the standard Q-tip, but medical swabs are better made and wrapped a little tighter. Medical swabs can be found at any pharmacy.

Do not insert the swab into any ports, jacks, or holes on the laptop.

8- Finish the job by wiping the case again with the lint-free cloth.

Use the cloth to sop up any excess moisture.

Never spill any liquid inside the laptop!

Isopropyl, or "rubbing," alcohol makes a good cleaning liquid. Do not use it to clean the monitor.

Avoid using any detergent that contains strong chemicals, such as ammonia or bleach.

WASH THE SCREEN

Never use alcohol or ammonia cleaners on an LCD screen. They can damage the LCD display so that the image becomes unreadable. Further, if you have a Tablet PC, the screen's ability to detect input is greatly diminished by the use of harsh chemicals.

CLEAN THE KEYBOARD
Some people use canned compressed air to clean a keyboard. While the air may clear away the debris, it may also blow it deeper into the laptop. After the gunk is inside, there's no way to clean it out.
credit to
www.dummies.com
Semoga tips ini dapat membantu anda.
Anda ada masalah dengan
MacBook/Laptop/Iphone?
Jangan risau!!
Kami boleh bantu menyelesaikan masalah anda..
Tak tahu dimana lokasi
M
ACNOTE STUDIO UIA Gombak?
Anda boleh hubungi kami melalui:
·
Hotline 03-4010 3014
Lot 1 As-Souq At-Tullab ,Mahallah Ali Ibn Talib,
International Islamic University Malaysia,
Universiti Islam Antarabangsa,
53100 Jalan Gombak,
Wilayah Persekutuan Kuala Lumpur
Google Maps :
Macnote Mobile
E-mail : macbookstation@gmail.com
Waktu Operasi : Isnin - Ahad (10 a.m. - 9 p.m.) Setiap Hari
Anda boleh datang terus ke MACNOTE di UIA Gombak:
1. KAMI DI GOMBAK ( DALAM UIA GOMBAK)
- 15 MINIT DARI KEPONG DAN SELAYANG
- 25 MINIT DARI BANGSAR DAN AMPANG
- 30 MINIT DARI SETAPAK DAN SENTUL
-40 MINIT DARI PUCHONG DAMANSARA DAN CHERAS